I built my first website in 2016 and since then I've iterated several times.
Just last day I was thinking I wish I had screenshots of my old websites. And then I learn about the wayback machine that shows you old iterations of any website on the internet.
So here's the thing. For everyone who compliments me on my current website, thank you! I can now show you that it was always not this amazing.
First Website – View
Published first on Oct 22, 2016
Using Jekyll + Github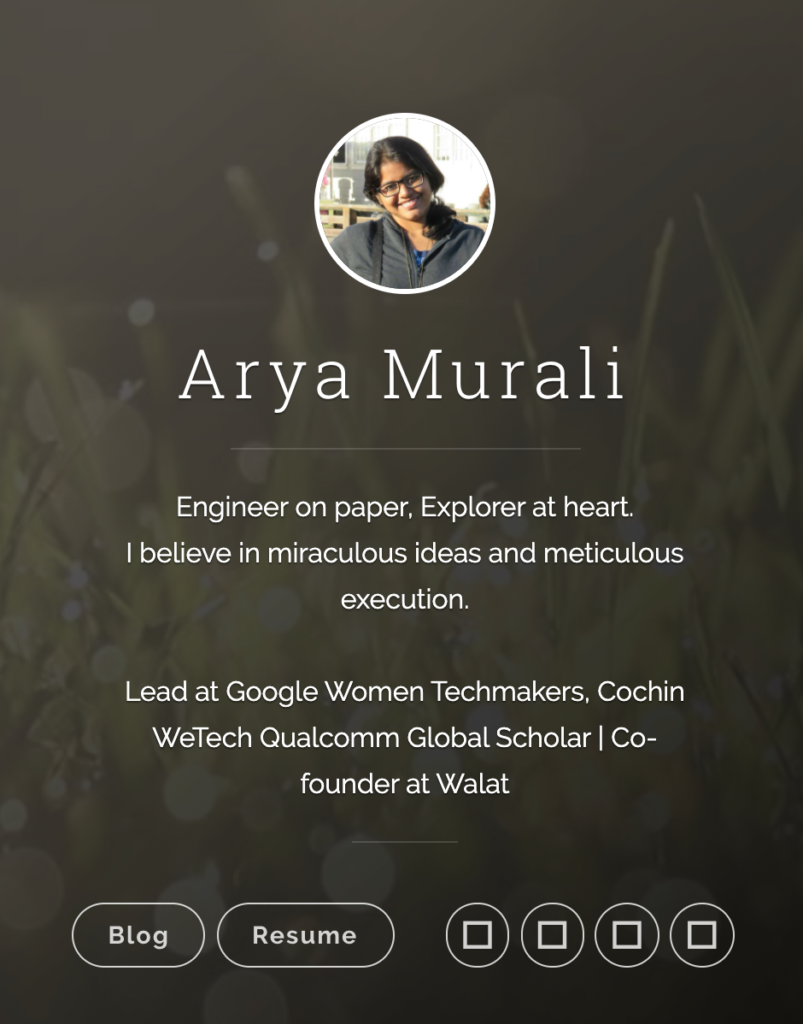 A very simple one. Just name, few lines about me and a few blogs. The real reason I ditched this is that I hated editing markdown files. It was such big friction to my content production. I had almost entirely stopped writing.
But God! Was I cheesy! "I believe in miraculous ideas and meticulous execution". Well I still believe in the latter, but I have enough appreciation for non-miraculous ideas also now.
Fun fact: This is the only dark-themed website I've had. Everything else is while with a ton of color.
Second Website – View
Published first on Nov 2, 2017
Using Jekyll + Github
So by now, I had moved my blog to Medium. And I had this one page 'About me' of sorts. I actually loved loved loved this template back then. (It was also the first time I cut my hair short and I thought I looked cute)
By this time, I'm more authentic. I agree with what old Arya wrote in 2017.
I like meeting and interacting with people. But after every 2 days of active speaking and public engagement, I need a day for myself to just get back on my toes.

I love bright, sunny days and a perfect morning for me is waking up to melodies, journaling my random thoughts while sipping away some hot coffee. I have a thing for rush-free mornings.
---
But what happened was that I made some edit somewhere and the entire template broke into plain HTML. And I tried for several months to fix it. But I couldn't.
So this is when I realize it is not worth my time and effort. I like visually appealing websites, but I don't want to spend a ton of time tweaking the margin width. I want to do it drag and drop.
Third Website – View
First published on July 30, 2018
Published using Google Sites
So then I moved to Google sites. Simple, one page. The blog was still in Medium.
I had this fun cartoon character of mine as well that was on all my websites. This one.
Fourth website – No View
First published around Oct 25, 2019
Using Mobirise
This one was on Mobirise. I liked it. It really helped me get more creative compared to my earlier options.
But then I found it limiting because I couldn't run a blog along with it. I also ran into some glitches that made it frustrating.
Also read: Build your website in 3 easy steps using Mobirise
Fifth and current website – You are already viewing it
First published on some day in 2020
Using WordPress, Astra theme + Beaver Builder
I made the big decision to move my blog away from medium. I decided to invest in WordPress and all the hosting shenanigan, given my track record of having a website for 4 years. So I knew that I was serious about this At this time, I also had 300+ blogs under my belt with 8000 readers every month on medium. So I wanted to more seriously build my readership and just own my content.
And now it is great! I use the WordPress mobile app to pen my drafts on the go. I can write on my laptop. I have an online store attached to my website. WordPress is amazing until maybe it also becomes a pain to manage.
Costs
I spend about 2K a year on my domain name. and 5K for 4 years for hosting WordPress. My first 4 websites were completely on free hosting using Github. Only paid for domain name all those years.
I have not paid a penny other than these to build my website.
I did at all by myself
I know for sure that my website will change in the years to come. Before we part, I wanted to tell you that I learned to build all these by myself and did it all by myself. It is completely doable and in fact, a ton of fun to design your own website.
You don't have to be a web developer to own a website.
Reminiscing my digital journey, I feel I did the right thing by documenting it through my website and blogs. I can now look back and laugh at myself and see how far I've come, but also how much fun I had all this while!